FIFTH SUNDAY IN ORDINARY TIME ~ FEBRUARY 7, 2021
STAR OF THE SEA, CANSO
ST. AGNES, LITTLE DOVER
ST. VINCENT DE PAUL, QUEENSPORT
ST. JOSEPH'S, PORT FELIX
PASTOR: FR. JONATHAN NNAJIOFOR, 366-2927
CONGREGATION OF NOTRE DAME 358-2346
PARISH PASTORAL COUNCIL MEMBERS: Sam Delorey,
Donna Jackson, Gerry Parker, Gelly Parker, Cynthia Creamer,
Calvin Harnish, Corrine Munroe, Agnes Casey, Sr. Alma,
Marie Parker, Fr. Jonathan
The complete text of this bulletin is also available on the parish's website at www.cansoparishes.org
---
---
WEEKEND MASS SCHEDULE
Saturday, February 13 - 6:00 p.m. - St. Joseph - †Rita David
Sunday, February 14 - 11:00 a.m. - Star of the Sea - †Cal & †Tootsie Baker
PLEASE NOTE: The churches of St. Agnes and St. Vincent de Paul are closed for the winter months. MASS will resume the first weekend in May, 2021.
WEEKDAY MASSES
Thursday, February 11, 6:00 p.m. - St. Anthony's Chapel - ♥For the Faithful
COMMUNION CALLS - If you know of anyone who is unable to get out to Mass and would like to receive Holy Communion, please call the parish office to have their name added to the list.
LENT BEGINS ON ASH WEDNESDAY, FEBRUARY 17 - The season of Lent is a time of prayer, self-examination and fasting in preparation for the celebration of the resurrection of the Lord at Easter. The 40 days of Lent is a wonderful opportunity to grow in your faith.
REFLECTION ON TODAY'S READINGS The God Who Can Heal and Save
Jesus' disciples freely brought their troubles to him because they found him ready and able to deal with any difficulty, affliction, or sickness which they encountered. When Simon brought Jesus to his home, his mother-in-law was instantly healed because Jesus heard Simon's prayer. Do you allow Jesus to be the Lord and Healer in Your life, family, and community? Approach him with expectant faith. God's healing power restores us not only to health but to active service and care of others. There is no trouble he does not want to help us with and there is no bondage he can't set us free from. Do you take your troubles to him with expectant faith that he will help you? In our search for Christ, we should not allow problems to undermine our search for intimacy with Jesus. Jesus wants us to always be by his side just as the apostles were so that wherever we go or wherever we are, we have Jesus as a companion. Let the worries of this world not be our only reason for God.
LITURGY COMMITTEE MEETING - will be held Tuesday, February 9 at 6:30 p.m. in the meeting room at the Glebe. All members are encouraged to attend.
STAR OF THE SEA NEWS
Ticket Draw - Tickets are available on a $300.00 Fuel Oil Gift Certificate. Please contact Flo Flemming to sell or purchase tickets.
Ministries Schedule, February 14
Lectors - Mary LeBlanc
Ushers/Collectors - Bill MacMillan
ST. AGNES PARISH NEWS
Club 100 - Tickets are available from fund- raising committee members. Ticket draw is Sunday, Febraury 14. Thank you for your support.
Straw Draw - We are asking for donations of prizes for a Straw Draw. Prizes can be droppe doff to Charlene, Colleen or brought to the Hall. All donations are greatly appreciated.
SUNDAY MISSALS - are available in the entrance of our churches, cost this year is $8.00 per missal. The increase in cost is directly related to an increase from our supplier.
NOTES
World Day of the Sick - The ministry of Jesus is central to the life of the Church. February 11 (Memorial of Our Lady of Lourdes) highlights the healing ministry of the Church. It reminds us that service to the sick and suffering cannot be neglected. It recognizes the great efforts of doctors, nurses, health care institutions and pastoral care givers to restore health to those afflicted with illness and disease. Please remember the sick and suffering in your prayers.
PRE-MARRIAGE PROGRAM - will be held on May 29, 2021. Please register by calling (902) 849-4772. Family Service of Eastern NS, 9 Minto Street, Glace Bay, NS, B1A 5G5
SUNDAY COLLECTIONS
Star of the Sea
Envelopes (27) 565.00
St. Agnes
Envelopes (9) 165.00
St. Vincent de Paul
Envelopes (1) 20.00
Please note: your financial contribution to our parishes is much appreciated. We thank you for your ongoing support. May God shower you with blessings.
---
---
---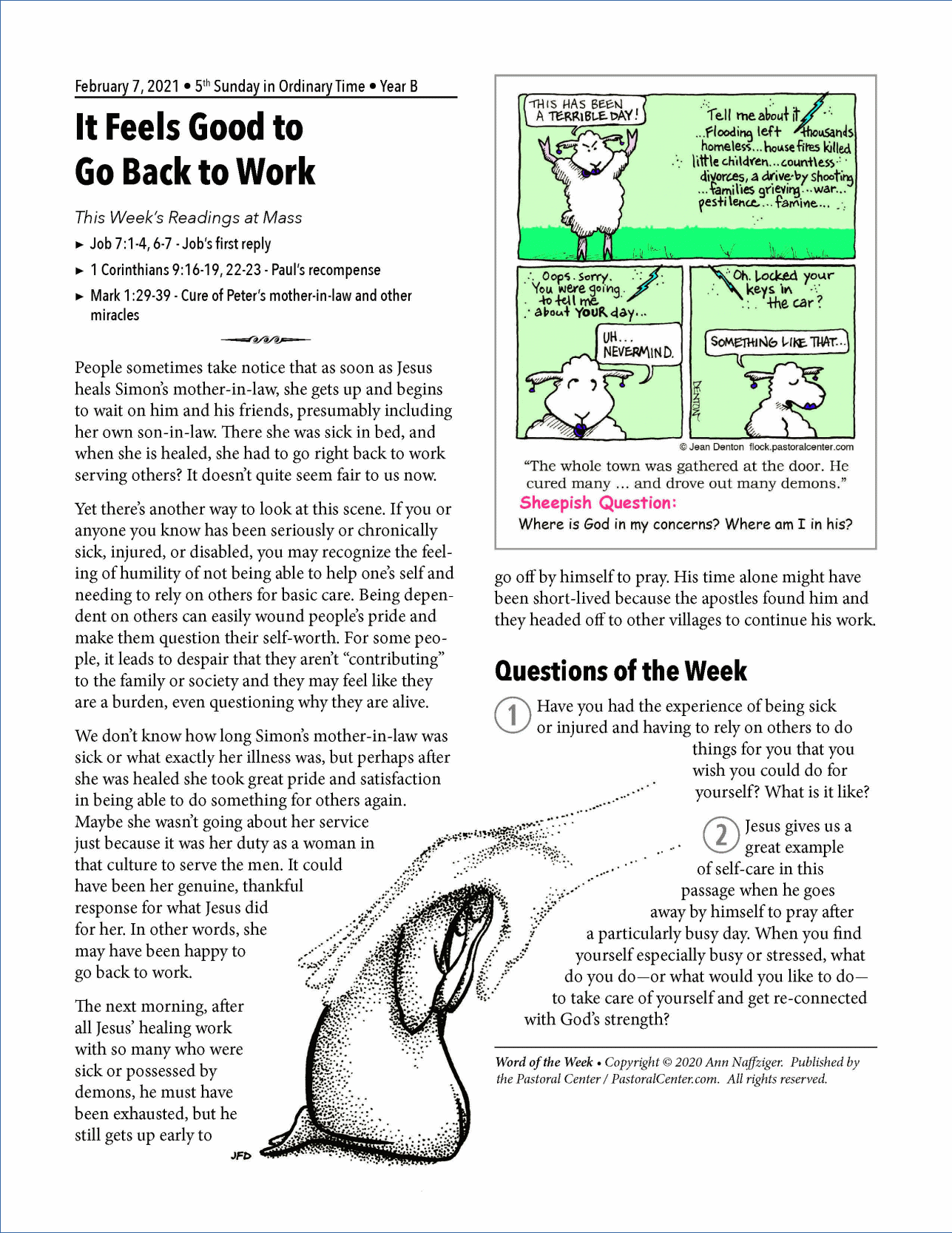 ---
< < < < < < < < < < end of document > > > > > > > > > >
---