THIRD SUNDAY IN LENT ~ March 7, 2021
STAR OF THE SEA, CANSO
ST. AGNES, LITTLE DOVER
ST. VINCENT DE PAUL, QUEENSPORT
ST. JOSEPH'S, PORT FELIX
PASTOR: FR. JONATHAN NNAJIOFOR, 366-2927
CONGREGATION OF NOTRE DAME 358-2346
PARISH PASTORAL COUNCIL MEMBERS: Sam Delorey,
Donna Jackson, Gerry Parker, Gelly Parker, Cynthia Creamer,
Calvin Harnish, Corrine Munroe, Agnes Casey, Sr. Alma,
Marie Parker, Fr. Jonathan
The complete text of this bulletin is also available on the parish's website at www.cansoparishes.org
---
---
WEEKEND MASS SCHEDULE
Saturday, March 13 - 6:00 p.m. - St. Joseph - †Fred Rhynold
Sunday, March 14 - 11:00 a.m. - Star of the Sea - †Rita & †William David
PLEASE NOTE: The churches of St. Agnes and St. Vincent de Paul are closed for the winter months. MASS will resume the first weekend in May, 2021.
WEEKDAY MASSES -
Wednesday, March 10 - 2:00 p.m. Port Felix - ♥For the Faithful
Stations of the Cross and Mass during the season of Lent in Port Felix every Wednesday by 2:00 pm.
Thursday, March 11 - 6:00 p.m. St. Anthony's Chapel, Canso - ♥For the Faithful
COMMUNION CALLS - If you know of anyone who is unable to get out to Mass and would like to receive Holy Communion, please call the parish office to have their name added to the list.
REFLECTION ON TODAY'S READINGS Our Hearts as the Temple of God
Many cultures make a distinction between the sacred and the secular. God Himself sanctioned that distinction when he gave the Ten Commandments. Among other things, His name was to be held holy. The people who were buying and selling in the temple did not respect the distinction between the sacred and the secular. Jesus reminded them by driving them out of the temple with a whip of cords. That was how much the distinction meant to him. The word of God teaches that the temple of God is not just the physical building, but the individual believer as well. Jesus actually uses the word Temple to refer to himself in today's Gospel. Jesus is the original, primordial Temple of God. Every baptized person is a temple of God (the Holy Spirit) in so far as he participates in the dignity and status of Jesus as Temple. The Apostle Paul enjoined the believers of his time and all times to be alive to their status as God's temple (1 Cor 3:16). The New Testament sees each Christian and the Christian community as a whole as the temple of God, the new house of God where God dwells (1 Cor 3:16; 2 Cor 6:16). So, we are exhorted to grow into a Holy Temple of God manifesting him to the world.
STAR OF THE SEA NEWS
Butterfly Memory Tree - will be placed in Star of the Sea Church for Easter Sunday, April 4 and will remain until Pentecost Sunday, May 23 . If you wish to remember a loved one in this manner please fill out a Memorial Card (available in the entrance of the church) and place it in the Collection Basket. A minimum donation of $5.00 is requested per Butterfly. Donations will be deposited to the parish of your choice.
Game of Chance - will take place March 25. Numbers are available from Committee members. We are requesting donations of merchandise prizes, we do have some prizes but not enough.
Ministries Schedule, March 14
Lectors - Donna Lewis
Ushers/Collectors - Bill MacMillan
We are in need of a Sacristan to assist with preparation for Sunday Mass, training will be provided.
Property and Finance Committee - required immediately - three new members, if this interests you in any way, please contact a committee member or the parish office as soon as possible.
ST. AGNES PARISH NEWS
Straw Draw - We are asking for donations of prizes for a Straw Draw. Prizes can be dropped off to Charlene, Colleen or brought to the Hall. All donations are greatly appreciated
NOTES:
Parish Council Meeting - 23rd March; Time: 6:30 pm Venue: St. Agnes Parish Hall. All members are encouraged to attend.
Liturgy Meeting - will be held Tuesday, March 16 at 6:30 p.m. in the Star of the Sea Vestry. All members are requested to attend. Planning for Easter Triduum will be the main topic.
Development and Peace Collection Sunday, March 21 - Share Love/Share Lent - "Share Love, Share Lent is an opportunity for you to be a part of a Lenten journey that can bring you closer to Christ and to those who suffer throughout the world and so contribute to the culture of encounter." Read the letter from Archbishop Richard Gagnon, President of the Canadian Conference of Catholic Bishops, on Our Blog: https://www.antigonishdiocese.com/share-love-share-lent/
Centering Prayer Workshop - Mar. 15, 10 am - 4 pm, Bethany Resource Centre, Antigonish
Offered by the Martha Ministry of Spirituality, for those who may wish to learn about Centering Prayer or deepen in the practice. Cost: $20/day, please bring your own lunch. Registration: Call Sr. Claire MacNeil at 902-863-4726 or 902-863-4822. The registration is on first come, first serve basis. We will be observing Covid-19 health protocols.
SUNDAY MISSALS - are available in the entrance of our churches, cost this year is $8.00 per missal. The increase in cost is directly related to an increase from our supplier.
PRE-MARRIAGE PROGRAM - will be held on May 29, 2021. Please register by calling (902) 849-4772. Family Service of Eastern NS. 9 Minto Street, Glace Bay, NS, B1A 5G5
SUNDAY COLLECTIONS
Star of the Sea (29) 460.00
St. Agnes (9) 150.00
St. Vincent de Paul Nil
St. Joseph (30), 2 weeks 582.00
Loose 15.00
Building Fund 80.00
---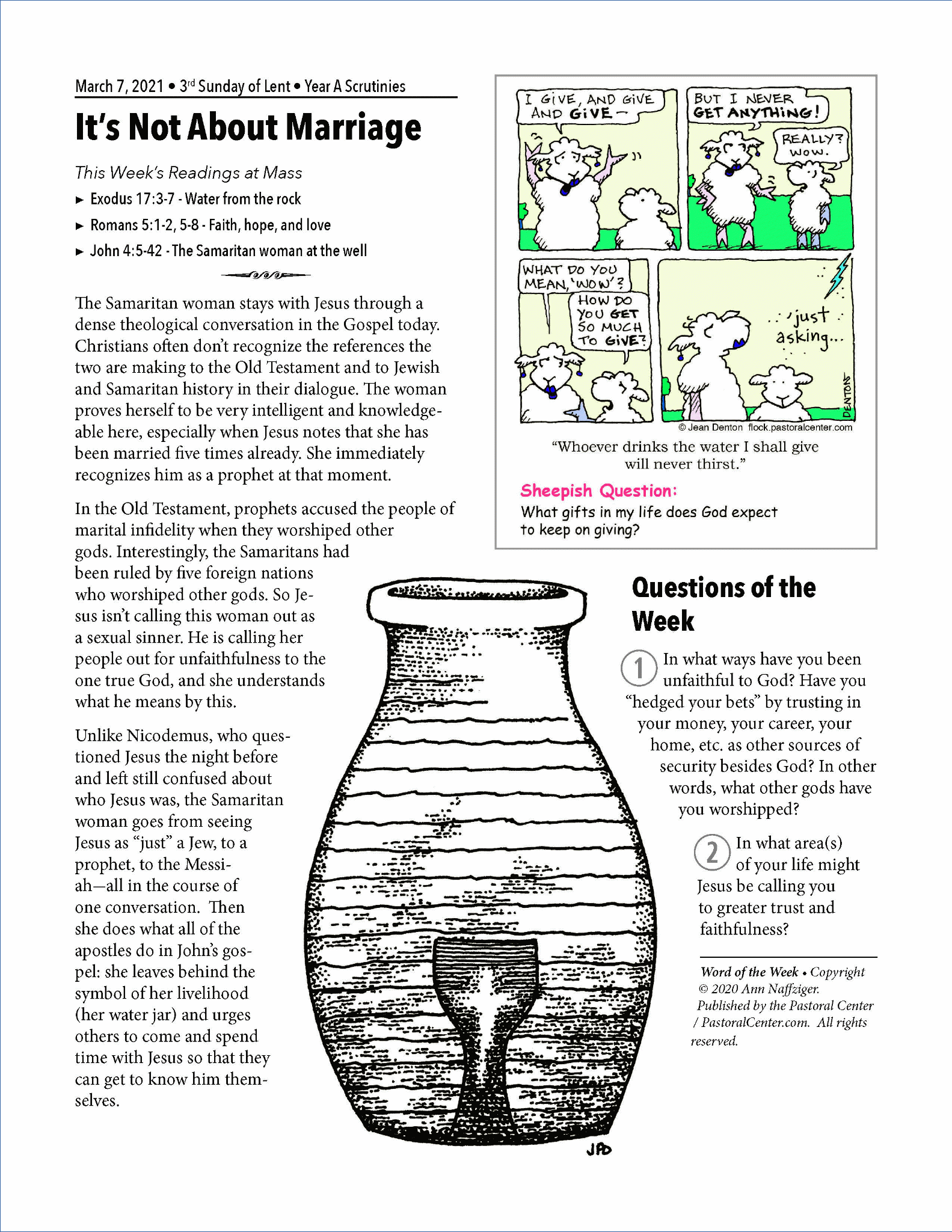 ---
< < < < < < < < < < end of document > > > > > > > > > >
---