THE NATIVITY OF SAINT JOHN THE BAPTIST ~ JUNE 24, 2018
STAR OF THE SEA, CANSO
ST. AGNES, LITTLE DOVER
ST. VINCENT DE PAUL, QUEENSPORT
ST. JOSEPH'S, PORT FELIX
PASTOR: FR. JONATHAN NNAJIOFOR, 366-2927
CONGREGATION OF NOTRE DAME 358-2346
PARISH PASTORAL COUNCIL MEMBERS: Sam Delorey, Donna Jackson,
Rene LeBlanc, Flo Flemming, Jenny Keefe, Paul Smith, Marlaine Myatt,
Mary Jean Hanhams, Irene O'Leary, Janet Delorey, Cynthia Creamer,
Calvin Harnish, Corrine Munroe, Sr. Alma, Marie Parker, Fr. Jonathan

The complete text of this bulletin is also available on the parish's website at www.cansoparishes.org
---
---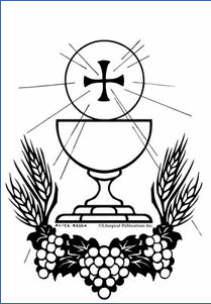 WEEKEND MASS TIMES
Saturday, June 30 - 4:30 p.m. - St. Vincent de Paul - †Margaret Martin
- 6:00 p.m. - St. Joseph - †Bernie MacLean
Sunday, July 1 - 9:30 a.m. - St. Agnes - †Ben Mosher
- 11:00 a.m. - Star of the Sea - †Frank Richard
WEEKDAY MASS TIMES
Wednesday, June 27 - 6:00 p.m. Port Felix - †Seward Armsworthy
Thursday, June 28 - 6:00 p.m. - St. Anthony's Chapel - †Cal & †Tootsie Baker
PLEASE NOTE - Funeral Mass/Week Day Masses: Parishioners are called to take notice of this, that on any day of the week
COMMUNION CALLS - If you know of anyone who is unable to get out to Mass and would like to receive Holy Communion, please call the parish office to have their name added to the list. Communion Calls will be the first Friday of the month.
HEALING SERVICE; Anointing of the Sick: MONDAY 25TH JUNE, at Star of the Sea Church at 6:30 p.m. Let us come together with faith and pray for all our sick brothers and sisters and commend them to the Healing Power of Almighty God.
REFLECTION ON TODAY'S John is His Name
Apart from Christmas, the birthday of the Blessed Virgin Mary and that of John the Baptist are the only two nativities (birthdays) celebrated in the Church. The role these two figures played through their positive dispositions to carrying out God's plan for the redemption of humanity from sin cannot be overemphasized. John came to bear witness to the faithful servant of God who will be the light to the nations – as we see in the First Reading. John played his role very well as to acknowledge that Jesus is the Messiah and the only messenger sent to prepare the way, as seen in the Second Reading. The birth of John the Baptist as described by Luke makes clear the reality that John was born to fulfill a noble role in God's predestined plan for the salvation of the world.
PARISH PASTORAL COUNCIL - meeting will be held Tuesday, September 18, 6:30 p.m. at Star of the Sea vestry. All members are requested to attend.
ST. AGNES NEWS
Cemetery mowing - Lloyd Keefe has accepted the job of mowing the parish cemetery. All concerns and suggestions should be directed to the parish office and will be passed on to parish representatives.
50/50 Bingo - The last bingo will be Sunday, June 24 at the hall. Bingo will resume in the Fall. We wish to extend a huge thank you to all supporters. To those who work the bingo, we appreciate all you do and the time you volunteer. Thanks so much!
Dover Days Picnic - will take place August 3 - 5. We are presently looking for prizes to support this event. All donations will be greatly appreciated.
Thank you - is extended to District 5 Councillor Janet Peitzsche and MODG for grants totaling $1,100.00 for the parish hall and fund-raising activities. Much appreciated.
ST. JOSEPH NEWS
Card Plays - are over until we start up again in the Fall. We want to thank everyone who came out and supported us. Thank you to the workers and to the people who picked up prizes. It is very much appreciated.
Benefit Concert - We appreciate all the support, kindness and concern shown to us. God bless each and everyone of you. - Family of Howie Cashin.
Regular Weekly Bingo - continues on Saturdays at 7:30 pm in the parish hall until the fall.
Breakfast/Brunch - St. Joseph's Parish Hall, Sunday, July 1,10 am – 1 pm. Bacon, Sausage, Bologna, pancakes, hash browns ,scrambled eggs, toast, corn fritters & muffins, Tea, Coffee, Juice. $10.00/per person. All proceeds to St. Joseph's Building Fund. Thank you in advance for your support.
ST. VINCENT DE PAUL NEWS - A Prize Bingo will be held Sunday, June 24 at 2:00 p.m. in the Queensport Fire Hall. All are invited to attend. Proceeds to St. Vincent de Paul Church. Prizes would be greatly appreciated.
STAR OF THE SEA NEWS
Parking in the Prescribed Zone for Those with Disabilities - We wish to remind parishioners that this zone is DROP-OFF AREA ONLY. Parking is only permitted to drop someone off. Thank you for your cooperation in this matter.
Cemetery Clean-up - a BIG thank you is sent out to all who came and helped with the clean-up! It shows love for our deceased family members and parishioners. What a special gift to them.
Ministries Schedule, July 1
Lectors - Carla Armsworthy/Juanita Dort
EMOHC - Ray White/Janet Delorey
Presentation of Gifts - Sam/Janet Delorey
Church Cleaning - Theresa Casey/Eileen Cohoon
Ushers/Collectors - Janet Delorey/Bill MacMillan
Hospitality - Gelly Parker/Deanna Nickerson
Sacristan - Janet Delorey
Servers: Katlin/Ocean
Property & Finance Committee - will meet Tuesday, July 3 at 7:15 p.m. in the Meeting Room. New members are welcome.
Ways & Means - Meeting date will be announced
Prize Bingo - special thanks is extended to those who supported the parish bingo. Proceeds were $1,072.00! We are so blessed to have your continued support.
Ticket Draw - on a Travel Gift Card from CM Travel Brokers, valued at $10,000.00, only 2500 tickets will be printed!! Tickets are $10.00 each. Draw Date September 18!!
LITURGY COMMITTEE MEETING - Next meeting will be held in September, date will be announced.
OUR FOUR CEMETERIES
Cemetery Maintenance - At the Annual General meeting (March 2018) a motion was passed stating that a maintenance fee of $50.00 (minimum amount) per year be established in our four parishes. This fee is payable to the parish cemetery where your loved one is buried. This contribution is used for the upkeep of the parish cemetery.
SUNDAY COLLECTIONS
Star of the Sea (49) 752.00
Loose 43.00
St. Agnes (21) 200.00
Loose 1.00
Cemetery 100.00
St. Vincent de Paul (8) 110.00
Loose 5.00
Building Fund (1) 10.00
St. Joseph (28) 248.00
Loose 22.00
Building Fund 40.00
Congratulations - we wish to extend congratulations to graduates of Canso Academy. We are proud of your accomplishments and wish you success. Congratulations to youth finishing school for another year. May you all enjoy summer freedom, stay very safe and remember to attend Mass.
---
< < < < < < < < < < end of document > > > > > > > > > >
---