FIRST SUNDAY OF ADVENT ~ NOVEMBER 27 , 2022
STAR OF THE SEA, CANSO
ST. AGNES, LITTLE DOVER
ST. VINCENT DE PAUL, QUEENSPORT
ST. JOSEPH'S, PORT FELIX
PASTOR: FR. JONATHAN NNAJIOFOR, 366-2927
CONGREGATION OF NOTRE DAME 358-2346
PARISH PASTORAL COUNCIL MEMBERS:
Donna Jackson, Janet Delorey, Cynthia Creamer,
Calvin Harnish, Agnes Casey, Corrine Munroe,
Gerry Parker, Gelly Parker, Paul Horne,
Sr. Alma, Marie Parker, Fr. Jonathan
The complete text of this bulletin is also available on the parish's website at www.cansoparishes.org
---
---
WEEKEND MASS TIMES
Saturday, December 3 - 6:00 p.m. - St. Joseph, Port Felix - †Rod Cashin
Sunday, December 4 - 11:00 a.m. Star of the Sea, Canso - †Eileen Gertrude Casey
NOTES: The churches of St. Vincent de Paul and St. Agnes are now closed for the winter months. MASS will resume the first weekend in May, 2023.
WEEKDAY SCHEDULE
Thursday, December 1,- 6:00 p.m. St. Anthony's Chapel, Canso - ♥For the Faithful
COMMUNION CALLS - If you know of anyone who is unable to get out to Mass and would like to receive Holy Communion, please call the parish office to have their name added to the list.
MEMORY TREES - have been placed in Star of the Sea and St. Joseph Churches and will remain until Sunday, January 8, 2023. Minimum donation will be $5.00 and a loved one's name will be written on a ball. Donations will be deposited to the parish of your choice. Please fill out a memorial card with your loved one's name. For more information contact the parish office or Carla Armsworthy.
REFLECTION ON TODAY'S READINGS - Watch! Be Prepared! Be on our Guard! Advent which is the period of preparation for the coming of our Lord Jesus Christ commences today. We are obligated to prepare ourselves in order to celebrate in a worthy manner the greatest act of love and condescension which God in his infinite goodness decided to do for us, his creatures. God sent his divine Son to become one like us; so that we may become his adopted children and share in the divine life. This is what we celebrate at Christmas annually. Advent offers us a glorious opportunity to look into our lives, do a sort of introspection and discover if we are really living as genuine brothers and sisters of Christ. We have to be ready and keep awake as we have been instructed in the gospel today. Being awake involves casting off the works of darkness and putting on the armor of light, and conducting ourselves becomingly as in the day; not engaging in a life of drunkenness, debauchery, and licentiousness. Hence let us 'Watch! Be prepared! Be on our guard!' This watching is a dramatic way of speaking about our connectedness to God. It is about developing an awareness of what God is doing for us in the present to make us participants in the future glory that He alone can grant us. Advent is a season of self-awareness. Let us pray that we may have the courage to cast off the darkness of our lives, shed the masks that we wear, and put on Christ, the only reality needed for our eternal life.
SUNDAY COLLECTIONS
Star of the Sea (32) 475.00
Winter Fuel (2) 40.00
St. Agnes (3) 50.00
St. Vincent de Paul Nil
St. Joseph (12) 142.00
Building Fund 475.00
Thank you so very much for your support.
SUNDAY MISSALS - are available in the entrance of our churches, cost is $7.00 per missal.
ST. AGNES NEWS:
Fall Fun Day/Prize Bingo - A Huge thank you to all who supported these events in any way, organizers, donors and supporters. It is much appreciated! Profit was $2,600.00!!
Sunday Night Bingo - have resumed, 7:00 p.m. in the parish hall.
ST. JOSEPH NEWS
Regular Weekly Bingo - Saturday at 7:30 pm
Card Play - Tuesdays at 7:30 p.m.
STAR OF THE SEA NEWS
Property and Finance Committee - Tuesday, November 29 at 6:15 p.m. in the meeting room Ministries Schedule, December 4
Lector - Ginny Boudreau
Usher - Paul Horne
Sacristan - Flo Flemming
Cleaners - November 27 - Dec. 3 - Baker Girls
Upcoming Fund-Raising Events
Christmas Bazaar - Saturday, December 3, 12:00 p.m. Canso Hazel Hill Fire Hall. Bake Table, Parcel Post, Candy/Fudge; Craft Table, Chili/Chowder Lunch. Bingo - 2:00 p.m. Card Play - 7:30 p.m.
Tickets on $300.00 Grocery Gift Card - will be available November 1. Draw date is December 13.
LITURGY COMMITTEE - will meet Tuesday, December 6 at 6:30 in vestry of Star of the Sea. All members are encouraged to attend.
ADVENT ACTIVITIES
Journey Through Advent
https://www.cccb.ca/evangelization-catechesis-catholic-education/video-resources/journey-through-advent/
Advent Wreath
https://www.loyolapress.com/catholic-resources/liturgical-year/advent/about-advent/advent-links-to-explore-and-share/blessing-an-advent-wreath/
Make a Good Deed Chain
https://www.loyolapress.com/faith-formation/activities/good-deeds-chain-advent-activity/
---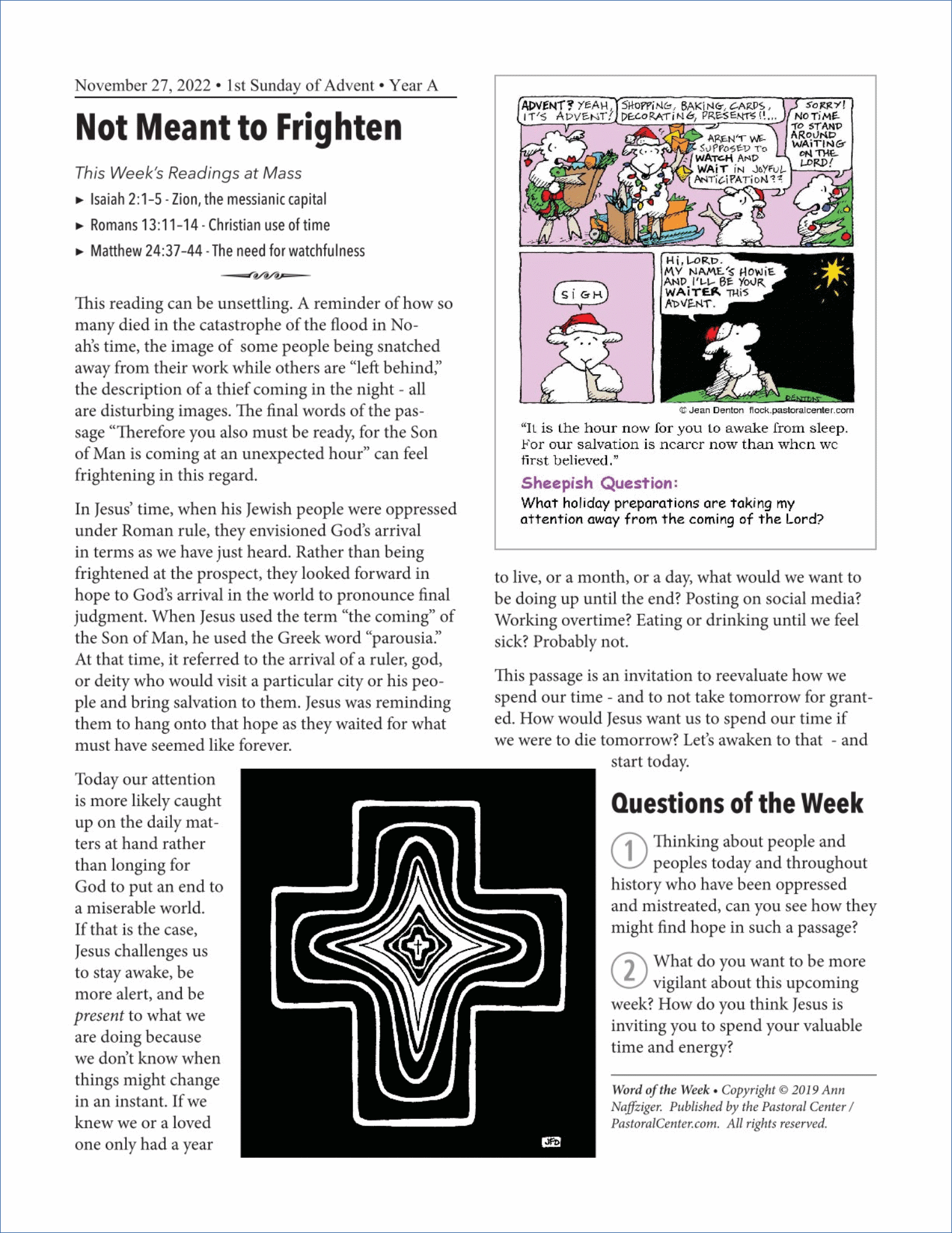 ---
< < < < < end of document > > > > >
---